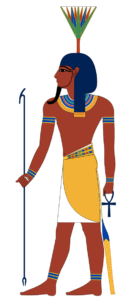 Depending on which day you celebrate the Helical Rising of Sirius – it is what we Kemetics note as Wep Ronpet, or our New Year.  Admittedly, I have waited a couple of days to write this, not because I needed to recover from a wild bout of celebrations but to contemplate what I want this new year to be.
Each of our years has a god of the year. For us, this god or Name of Netjer is Nefertem or Nefertum. Nefertum's Name literally means The Perfected One.  After the trials and tribulations that we have been through in the last several years, we could use some of what Nefertum stands for in our lives!  Perhaps the idea of Nefertum being the 'Perfected One' is because of His parentage. He is born of Sekhmet and Ptah.  He represents the first sunlight or the First Time and is depicted of having risen from the lotus flower or blue water lily known as Nymphaea caerulea. This particular flower also referred to as seshen, was central to ancient Egyptian beliefs and held great cultural significance. The scent of a true lotus flower is said to be rejuvenating and restorative to the senses and sexuality. Sometimes Nefertum is shown in leonine form.
One myth involving Nefertum is that when the Great God Ra was growing older, it was Nefertum who would bring him a lotus flower to cheer Him and to ease His suffering.  Because of His connection to the Goddess Bast, Who is sometimes depicted as His mother, Nevertum is often referred to as the God of Perfume. As the Son of Sekhmet, Nefertum is considered a god of healing, and as the Son of Ptah, who is one of the Creator deities, He is connected to each new day.
May Nefertum help us to see the beauty of each day. Dua Nefertum! Di nofret wep ronpet! Nekhtet!